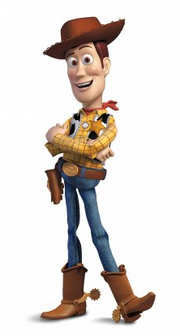 Sheriff Woody Pride, also known as Sheriff Woody; usually addressed as Woody, is the protagonist of the Toy Story movies and a supporting character in their spin-off media.
He is a pull-string cowboy doll based on a character of the same name from a 1950s children's television series called Woody's Roundup. In each film, Woody leaves Andy's room (where he and the other toys live) and ventures out into the world on an unexpected adventure. He is the leader of Andy's toys and later Bonnie's toys. He was once the favorite toy of a boy named Andy Davis until Andy grew up and gave him to a little girl named Bonnie Anderson.
Woody currently makes daily appearances in the Toy Story Midway Mania! attraction at both Disney's California Adventure in Anaheim, California and Disney's Hollywood Studios in Orlando, Florida.
Physical Appearance
Edit
Personality
Edit
Original concept
Edit
Toy Story
Edit
Toy Story 2
Edit
Toy Story 3
Edit
Toy Story 4
Edit
Other Media
Edit
Relationships
Edit