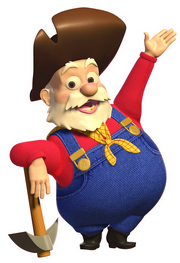 Stinky Pete the Prospector is the hidden secondary antagonist of the 1999 Disney/Pixar film Toy Story 2.
He is a prospector doll who was on the Woody's Roundup TV show, alongside Sheriff Woody, Jessie and Bullseye and never experienced a child's love, which is what made him bitter and evil in the first place. He wanted a greedy toy collector named Al McWhiggin to have him sent to a toy museum in Tokyo. Stinky Pete hates space toys, including Buzz Lightyear.
Physical Appearance
Edit
Personality
Edit
Toy Story 2
Edit
Ad blocker interference detected!
Wikia is a free-to-use site that makes money from advertising. We have a modified experience for viewers using ad blockers

Wikia is not accessible if you've made further modifications. Remove the custom ad blocker rule(s) and the page will load as expected.