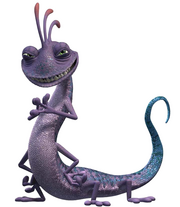 Randall "Randy" Boggs is the secondary antagonist of the 2001 Disney/Pixar movie Monsters, Inc. and a supporting character-turned-minor antagonist in it's prequel Monsters University. Randall resembles a lizard, with purple and blue skin, three pink antennae and eight limbs, four arms and four legs.
Physical Appearance
Edit
Personality
Edit
Monsters Inc.
Edit
Monsters University
Edit
Ad blocker interference detected!
Wikia is a free-to-use site that makes money from advertising. We have a modified experience for viewers using ad blockers

Wikia is not accessible if you've made further modifications. Remove the custom ad blocker rule(s) and the page will load as expected.