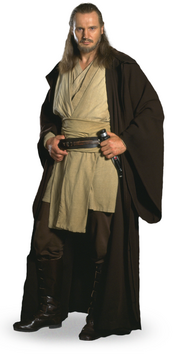 Qui-Gon Jinn is the deutertagoinst of the 1999 movie Star Wars Episode I: The Phantom Menace. He was a Jedi Knight who was the master of Obi-Wan Kenobi. He and Obi-Wan discovered Anakin Skywalker on Tattoonie, Qui-Gon believed Anakin to be the chosen one who would bring balance to the force. Qui-Gon was killed by Darth Maul so he couldn't train Anakin. Before dying in Obi-Wan's arms, he made Obi-Wan promise to train Anakin as a Jedi.
Physical Appearance
Edit
Write the first section of your page here.
Personality
Edit
Write the second section of your page here.
The Phantom Menace
Edit
Other Media
Edit
Ad blocker interference detected!
Wikia is a free-to-use site that makes money from advertising. We have a modified experience for viewers using ad blockers

Wikia is not accessible if you've made further modifications. Remove the custom ad blocker rule(s) and the page will load as expected.