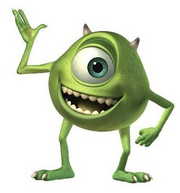 Michael "Mike" Wazowski is the deuteragonist of Monsters, Inc. and the protagonist of its prequel Monsters University. He is a light green, spherical monster with one large green eye, two small horns on his head, and thin arms and legs attached to either side of his torso.
Physical Appearance
Edit
Personality
Edit
Monsters Inc.
Edit
Monsters University
Edit
Other Media
Edit
Ad blocker interference detected!
Wikia is a free-to-use site that makes money from advertising. We have a modified experience for viewers using ad blockers

Wikia is not accessible if you've made further modifications. Remove the custom ad blocker rule(s) and the page will load as expected.