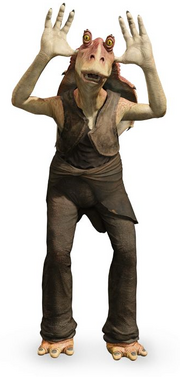 Jar-Jar Binks is a character in the Star Wars prequel trilogy. He is a former Gungan military officer and a politician during the waning days of the Galactic Republic. His clumsy behavior had, at one point in his life, led to his exile from Gungan society, but he was welcomed back by his people following his efforts during the Trade Federation Invasion of Naboo. Jar-Jar is best known for being the most despised character in the Star Wars franchise.
Physical Appearance
Edit
Write the first section of your page here.
Personality
Edit
Write the second section of your page here.
The Phantom Menace
Edit
Attack of The Clones
Edit
Revenge of The Sith
Edit
The Clone Wars
Edit
Other Media
Edit
Ad blocker interference detected!
Wikia is a free-to-use site that makes money from advertising. We have a modified experience for viewers using ad blockers

Wikia is not accessible if you've made further modifications. Remove the custom ad blocker rule(s) and the page will load as expected.