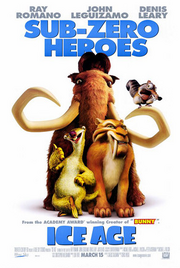 Ice Age is a 2002 American computer-animated buddy comedy road film directed by Chris Wedge from a story by Michael J. Wilson and released by 20th Century Fox and Blue Sky Studios. It was released in theatres on March 15, 2002 and features the voices of Ray Romano, John Leguizamo, Denis Leary, Chris Wedge, Goran Višnjić, Jack Black, Diedrich Bader, Alan Tudyk, Cedric the Entertainer and Stephen Root. The film is set during the days of the ice age showing animals begin migrating south to escape the winters and focuses on a no-nonsense mammoth named Manny and a loudmouthed ground sloth named Sid, who find a human baby and set out to return him with the help of a saber-tooth tiger named Diego, who is sent by his pack leader Soto to bring the baby to him to enact revenge against the humans.
This film was met with mostly positive reviews and was nominated at the 75th Academy Awards for Best Animated Feature. It was a box office success by grossing over $383 million, starting the Ice Age franchise. It was followed by four sequels, Ice Age 2: The Meltdown in 2006, Ice Age 3: Dawn of the Dinosaurs in 2009, Ice Age 4: Continental Drift in 2012, and Ice Age 5: Collision Course in 2016.
Production
Edit
Soundtrack
Edit
Videogame
Edit
Cinema Sin Video Transcript
Edit
Home Media
Edit
Short Films
Edit
TV Specials
Edit
Ad blocker interference detected!
Wikia is a free-to-use site that makes money from advertising. We have a modified experience for viewers using ad blockers

Wikia is not accessible if you've made further modifications. Remove the custom ad blocker rule(s) and the page will load as expected.