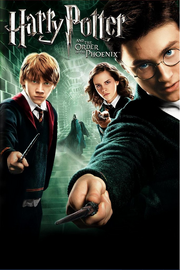 Harry Potter and the Order of the Phoenix is a 2007 British-American fantasy film distributed by Warner Bros. Pictures. It is based on the novel of the same name by J. K. Rowling, the fifth instalment in the Harry Potter film series, and the sequel to Harry Potter and the Goblet of Fire (2005). It was directed by David Yates was written by Michael Goldenberg (making this the only film in the series not to be scripted by Steve Kloves) and produced by David Heyman and David Barron. The story follows Harry Potter facing challenges at his fifth year at Hogwarts as the Ministry of Magic is in denial of Lord Voldemort's return.
Daniel Radcliffe, Rupert Grint, Emma Watson, Robbie Coltrane, Alan Rickman, Maggie Smith, Julie Walters, Gary Oldman, Emma Thompson, Michael Gambon, Ralph Fiennes and Jason Isaacs all reprise their roles from the previous movies. They are joined by Imelda Staunton, Evanna Lynch and Helena Bonham Carter who play new female characters Dolores Umbridge, Luna Lovegood and Bellatrix Lestrange.
Live-action filming took place in England and Scotland for exterior locations and Leavesden Film Studios in Watford for interior locations from February to November 2006, with a one-month break in June. Post-production on the film continued for several months afterwards to add in visual effects. The film's budget was reportedly between £75 and 100 million ($150–200 million). The film was released in theatres in North America on July 11, 2007 and in the United Kingdom on July 12, both in conventional and IMAX theatres; it is the first Potter film to be released in IMAX 3D.
Order of the Phoenix is the unadjusted 32nd highest-grossing film of all time, and a critical and commercial success, acclaimed as "the best one yet" by Rowling, who has consistently offered praise for the film adaptations of her work. The film opened to a worldwide 5-day opening of $333 million, fourteenth all-time, and grossed nearly $940 million total, second to Pirates of the Caribbean: At World's End for the greatest movie total of 2007. The film was nominated for two BAFTA Film Awards in 2008.
A Sequel, Harry Potter and the Half-Blood Prince, was released in July 2009.
Production
Edit
Soundtrack
Edit
Videogame
Edit
Cinema Sin Video Transcript
Edit
Home Media
Edit
Ad blocker interference detected!
Wikia is a free-to-use site that makes money from advertising. We have a modified experience for viewers using ad blockers

Wikia is not accessible if you've made further modifications. Remove the custom ad blocker rule(s) and the page will load as expected.