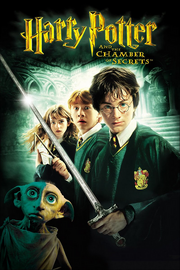 Harry Potter and the Chamber of Secrets is a 2002 British-American fantasy film directed by Chris Columbus and was written by Steve Kloves and produced by David Heyman and distributed by Warner Bros. Pictures. It is based on the novel of the same name by J. K. Rowling, the sequel to the 2001 movie Harry Potter and the Sorcerer's Stone, and the second instalment in the Harry Potter film series.
Daniel Radcliffe, Rupert Grint and Emma Watson reprise their roles as Harry Potter, Ron Weasley and Hermione Granger. The story follows Harry Potter's second year at Hogwarts as the Heir of Salazar Slytherin opens the Chamber of Secrets, unleashing a monster that petrifies the school's denizens.
The film was released in theatres November 15, 2002 in the United Kingdom and North America. It was very well received critically and commercially, making US$879 million worldwide. It is the seventh-highest-grossing film in the Harry Potter series and the 45th-highest-grossing film of all time. It was nominated for three BAFTA Film Awards in 2003.
A sequel, Harry Potter and the Prisoner of Azkaban, was released in 2004.
Production
Edit
Soundtrack
Edit
Videogame
Edit
Cinema Sin Video Transcript
Edit
Home Media
Edit
Ad blocker interference detected!
Wikia is a free-to-use site that makes money from advertising. We have a modified experience for viewers using ad blockers

Wikia is not accessible if you've made further modifications. Remove the custom ad blocker rule(s) and the page will load as expected.