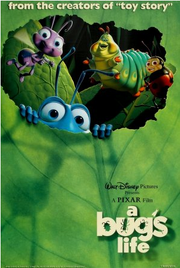 A Bug's Life is a 1998 American computer-animated comedy adventure film produced by Pixar Animation Studios and distributed by Walt Disney Pictures. Directed by John Lasseter and co-directed by Andrew Stanton, the film stars the voices of Dave Foley, Kevin Spacey, Julia Louis-Dreyfus, Hayden Panettiere, Phyllis Diller, Richard Kind, David Hyde Pierce, Joe Ranft, Denis Leary, John Ratzenberger, Jonathan Harris, Madeline Kahn, Bonnie Hunt, Mike McShane and Brad Garrett and involves a misfit ant, Flik, that is looking for "tough warriors" to save his colony from greedy grasshoppers, only to recruit a group of bugs that turn out to be an inept circus troupe. Randy Newman composed the music for the film.
The film is inspired by Aesop's fable The Ant and the Grasshopper. Production began shortly after the release of Toy Story in 1995. The screenplay was penned by Stanton and comedy writers Donald McEnery and Bob Shaw. The ants in the film were redesigned to be more appealing, and Pixar's animation unit employed new technical innovations in computer animation. During production, the filmmakers became embroiled in a public feud with DreamWorks Animation due to their similar film, Antz, which was released the same year.
The film was released in theaters on November 25, 1998, and was a box office success, surpassing competition, and grossing $363 million in receipts. It received positive reviews from film critics, who commended the storyline and animation, while others criticized it by comparing it to Antz. The film has been released multiple times on home video.
Production
Edit
Soundtrack
Edit
Videogame
Edit
Cinema Sin Video Transcript
Edit
Home Media
Edit
Ad blocker interference detected!
Wikia is a free-to-use site that makes money from advertising. We have a modified experience for viewers using ad blockers

Wikia is not accessible if you've made further modifications. Remove the custom ad blocker rule(s) and the page will load as expected.